Physician Supervised Weight Loss in Ocala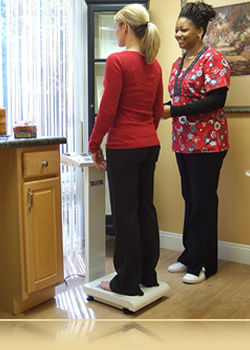 Lifestyle Solutions Medspa weight loss programs are custom designed to meet the individual weight and health goals of each patient. To ensure the highest level of safety and effectiveness, Michael Holloway, MD personally monitors the health and weight loss progress of each patient.
As a specialist in the field of bariatric (weight loss) medicine, Dr. Holloway is expert at prescribing individualized weight loss programs that will work for you, regardless of the amount of weight you wish to lose, even if you have been unsuccessful at weight loss in the past.
The foundation of all Lifestyle Solutions' medical weight loss programs is comprehensive, multidisciplinary treatment, which is recognized as the gold standard of weight loss therapy.
About our Weight Loss Programs
Although we design your weight loss program specifically to meet your weight and lifestyle goals, you can expect Dr. Holloway to recommend the following tests and treatments:
A Basic Blood Panel
This test provides us with information regarding your metabolic profile, cholesterol and thyroid levels, liver and kidney function, hormone imbalances, and risk factors for diabetics and iron deficiencies. Specialized panels may also be performed as indicated, based on an individual's symptoms and pre-existing medical conditions.
Metabolic Testing
This test provides a unique metabolic fingerprint, or resting metabolic rate (RMR), which plays a vital role in the care of individuals with diabetes, heart decease, high blood pressure, and obesity. Lifestyle Solutions MedSpa uses an FDA-cleared device that measures oxygen consumption to determine an individual's RMR and calorie expenditure.
Electrocardiogram (EKG)
An EKG will determine whether your heart is performing normally and make sure that you are not suffering from any rhythm disturbances or previous heart damage. This important test will also provide us with a baseline picture of your heart function that we will examine closely before initiating any pharmacological therapy.
Hormonal Testing
This test allows us to calculate any hormonal imbalances that can cause weight gain, fatigue, hot flashes, night sweats, memory loss, insomnia, impotence, or low sex drive in both men and woman.
Exercise & Nutritional Counseling
Whether you hit the gym faithfully at 5am every morning or haven't seen a gym in five years, Lifestyle Solution MedSpa can offer fitness and nutritional counseling to fit your lifestyle. As a former athlete and personal trainer himself, Dr. Holloway can personalize a fitness program for you. In addition, each of your weekly visits will consist of an evaluation of your daily log journal.
Based on your individual food preferences, you will be coached on maintaining a healthy lifestyle. We will help you develop a healthy plan for eating that will enable you to choose from a variety of foods from the basic food groups: meat and meat substitutes, dairy, fruits and vegetables, grains such as breads and pasta, and a limited amount of fats and sweets. As simple as it seems, it's not always easy to get the nutrition you need. You may eat more of your favorite foods from only one food group, and as a result, get less of other food groups. Or perhaps you opt for convenience over quality when you are hungry.
Healthy eating requires some planning and an effort to include a variety of foods in your meals. If you look closely at how you eat, you might find that you aren't getting enough nutrients because you don't get the recommended number of servings from each food group.
Your Lifestyle Coaches will monitor not only what you eat but also what food groups may be deficient in your diet. They will pay attention to serving sizes and ensure you are eating a variety of foods from each of the food groups. You don't need to meet the minimum number every day, but try to get the recommended intake over the span of a week.
If you are not getting the recommended amount of servings from each food group, you may be missing important nutrients. For example, if you rarely eat fruits or vegetables, you may not get enough vitamin C, beta-carotene, or potassium. Making a few small changes can help ensure that you're eating a variety of delicious healthy foods and can help you reach your goals!