Restylane®
What Is Restylane®?
Restylane®, a cosmetic dermal filler, is designed to restore volume loss and enhance facial contour for a firmer, more youthful appearance. Additionally, Restylane® can also help smooth moderate to severe creases along the nasolabial folds (laugh lines) and augment the lips. One of our highly skilled physicians will personally administer all Restylane® injections.
How Does Restylane® Work?
Comprised of a modified version of hyaluronic acid, a naturally-occurring substance in the body, Restylane® is utilized to help add volume and fullness to the skin. There are many hyaluronic acid-based dermal fillers available; however, Restylane® typically offers longer-lasting effects than other similar soft tissue fillers.
Hyaluronic acid is considered hydrophilic, or water-loving. As a result, Restylane® can bind with an increasing quantity of water molecules as the formula dissolves over time, helping to maintain the volumizing effects for approximately six months or more. No animal proteins are used to make Restylane®, which helps to reduce the risk of allergic reaction. If you have a history of sensitivity to gram-positive bacterial proteins you typically can still receive Restylane® treatment. Allergy testing is not required prior to the procedure.
How Long Will Restylane® Last?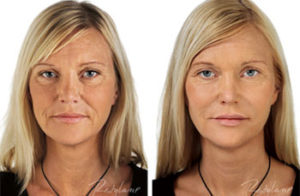 Restylane® includes a patented stabilization technology that helps to maintain the cosmetic benefits for an extended period of time. Depending on your individual factors and the area treated, this method can offer long-lasting facial rejuvenation for up to 12 months. Should you wish to extend the duration of the benefits, occasional maintenance sessions can help you do so.
Natural-Looking Lip Enhancement
Fuller, softer lips can rejuvenate your appearance and enhance your confidence without requiring an invasive procedure. Restylane® offers beautiful, natural-looking results in minutes with little to no downtime. The hyaluronic acid-based formula can increase volume, improve symmetry, and balance the shape of the top and bottom lips for a subtle yet impactful aesthetic improvement you'll love.
How Much Does Restylane® Cost?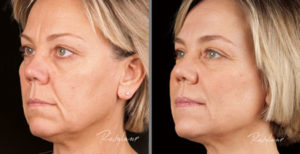 Your treatment plan is individualized to achieve the best outcome for you. As a result, the price of Restylane® will vary from person to person. Some factors that will go into the total cost include the number of syringes needed to complete your procedure (which is determined by the severity of your concerns and the number of areas treated) and whether other techniques are also utilized. Each syringe typically costs between $450 and $600, and we will provide a specific cost for you during your initial consultation. We want you to have all the information you need to make the best decision for your goals and lifestyle. To help make this process as convenient as possible, we offer medical financing solutions through a reputable company called CareCredit®. CareCredit® offers appealing payment plans for qualified applicants.
*Individual Results May Vary