CoolSculpting® and Dual-Sculpting
Eating nutritious food, exercising regularly, and maintaining a healthy body weight are important for a balanced and active lifestyle. However, many individuals who are at or close to their ideal weight discover that even with adherence to a strict diet and exercise routine, stubborn pockets of fat remain. Often located on the hips, thighs, and/or stomach, these fatty deposits may even be the result of genetic predisposition rather than excess consumption or inactivity. To assist our patients in treating these areas of concern, Lifestyle Solutions MedSpa offers FDA-approved, non-surgical CoolSculpting treatments that can help to re-contour the body and reduce excess fat.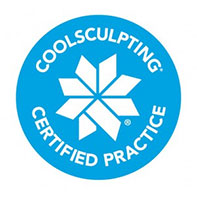 What is CoolSculpting®?
CoolSculpting uses an innovative technique called Cryolipolysis™, which destroys targeted fat cells by freezing them. The body's natural metabolic process then gradually removes the broken down cells, typically over the course of two to four months. This non-invasive approach uses no needles, incisions, or other invasive measures, and the procedure generally requires little to no downtime. Furthermore, CoolSculpting is designed to focus energy deep within the skin, leaving the surrounding tissue unharmed. In most cases, a single CoolSculpting treatment can provide effective results, although individual experience may vary.
Your time is important to us, and If you're considering treating more than one area, for instance, both flanks, thighs, or arms, we also offer Dual-Sculpting. A second CoolSculpting machine allows us to address multiple areas of concern in half the time, helping to increase efficiency and improve your overall experience. Our skilled aesthetics team and weight loss physician will be happy to develop a customized treatment plan using one or two CoolSculpting devices to best address your individual concerns and cosmetic goals.
CoolMini™ for Double Chin Treatment
Until recently, CoolSculpting was only effective on areas of the body. Now, it's possible to reduce excess fatty tissue from your chin as well. Submental fullness, commonly known as a "double chin," can be minimized using the specialized CoolMini device. This hand-held attachment uses the same advanced technology as CoolSculpting but is made to fit comfortably under the chin for targeted treatment.
Excess fat under the chin is a common concern that can affect men and women of all fitness levels and maturities. In the past, surgical procedures were the go-to option to address this frustrating issue. If you've tried diet and exercise and found little or no improvement in your facial contour, CoolMini may be able to help you enhance definition along your jawline, chin, and neck without the need for surgery, needles, or stitches.
Does CoolSculpting® really work?
For some patients, CoolSculpting sounds too good to be true. But this method can help reduce stubborn fatty tissue from targeted areas. It is not intended to be a weight loss product, but it can be used to assist you in your weight loss and cosmetic goals. CoolSculpting is a gradual process and takes a small amount of patience to see the results. Used in combination with a healthy diet and smart fitness regimen, this technique can be effective in contouring "trouble spots" that so many people struggle with. In clinical studies*, CoolSculpting was able to reduce the excess fat in the treated area by up to 20-25%. With multiple treatments, more fat can be addressed.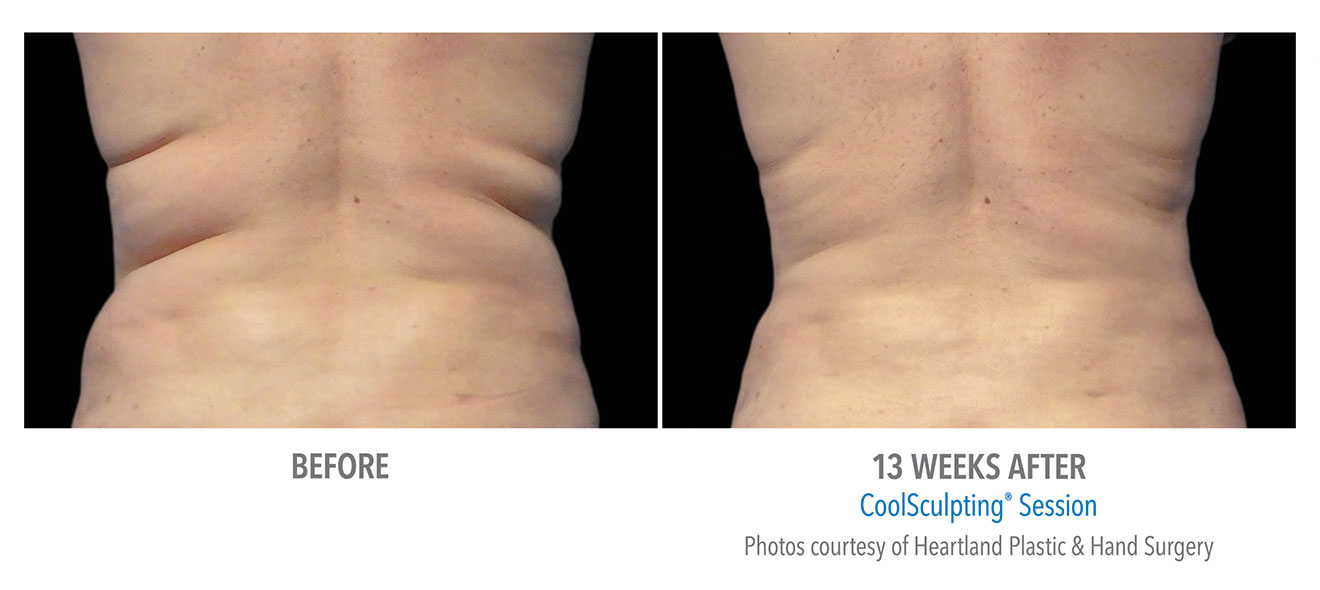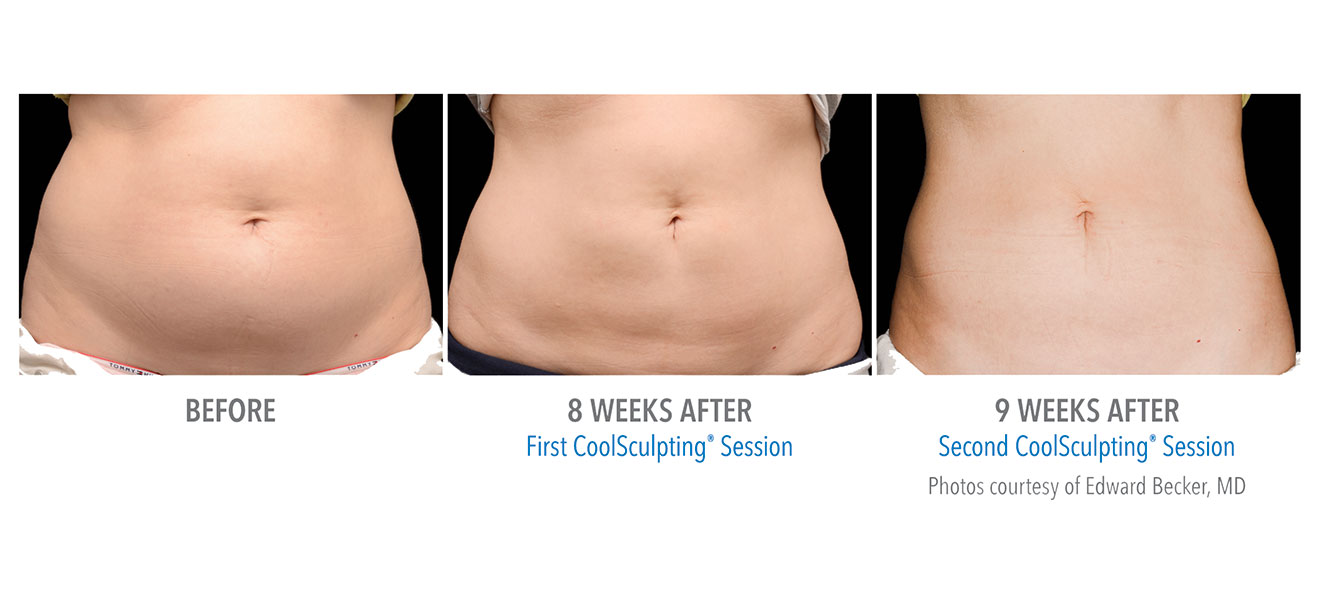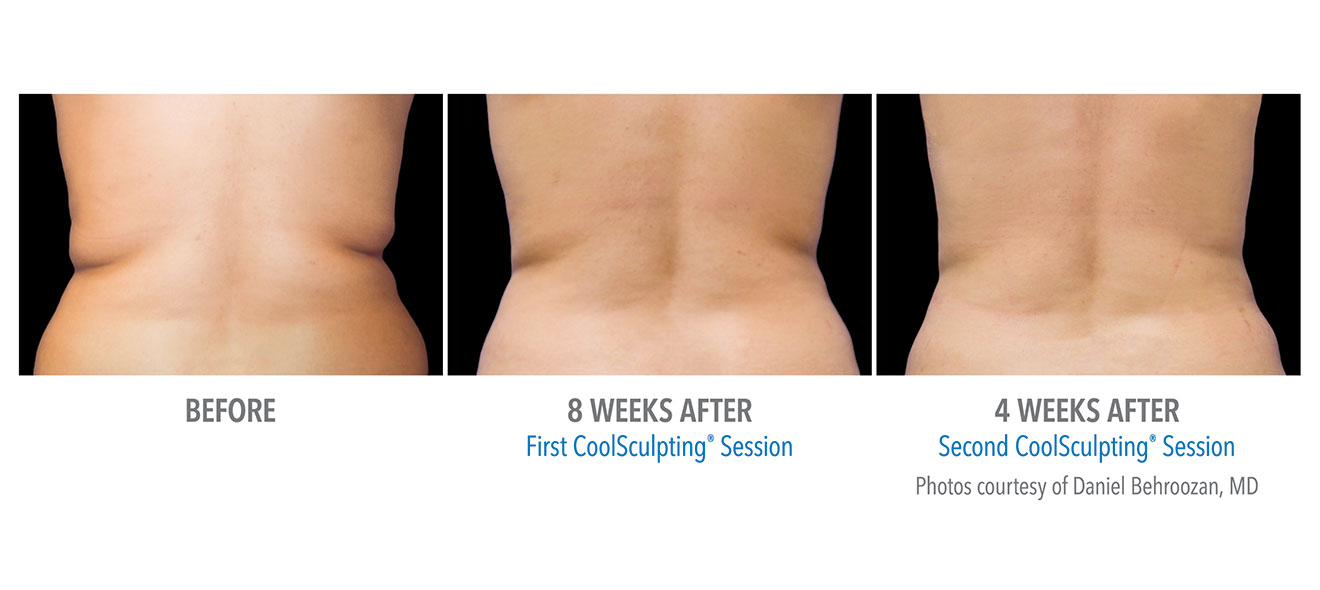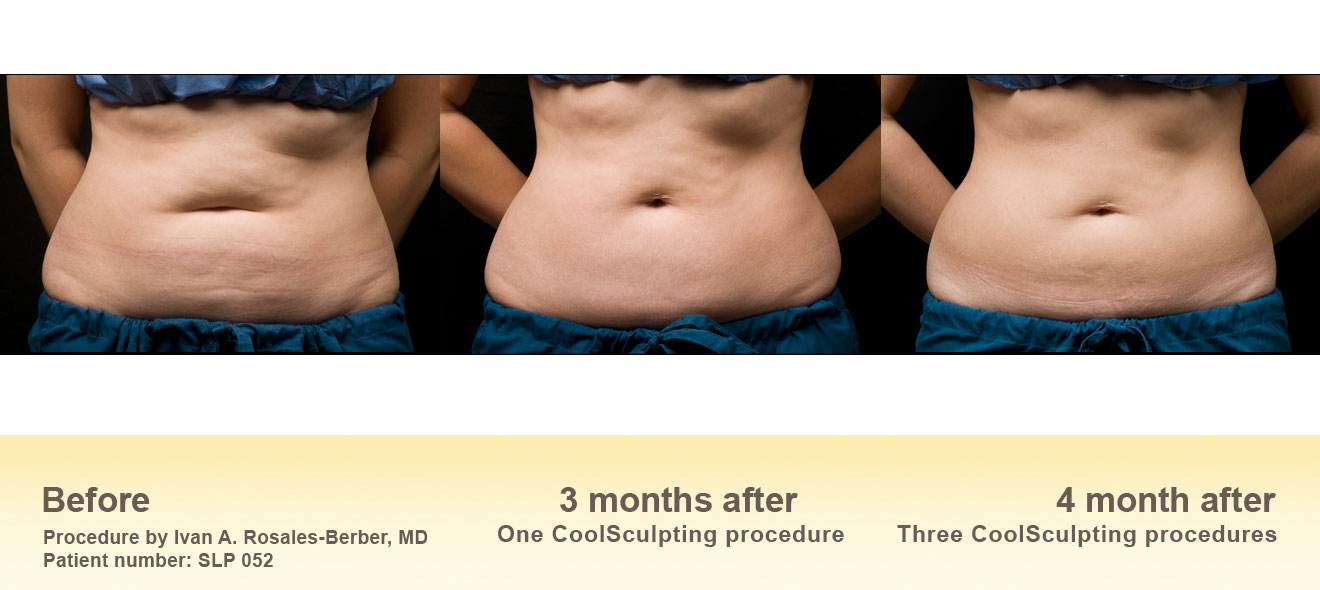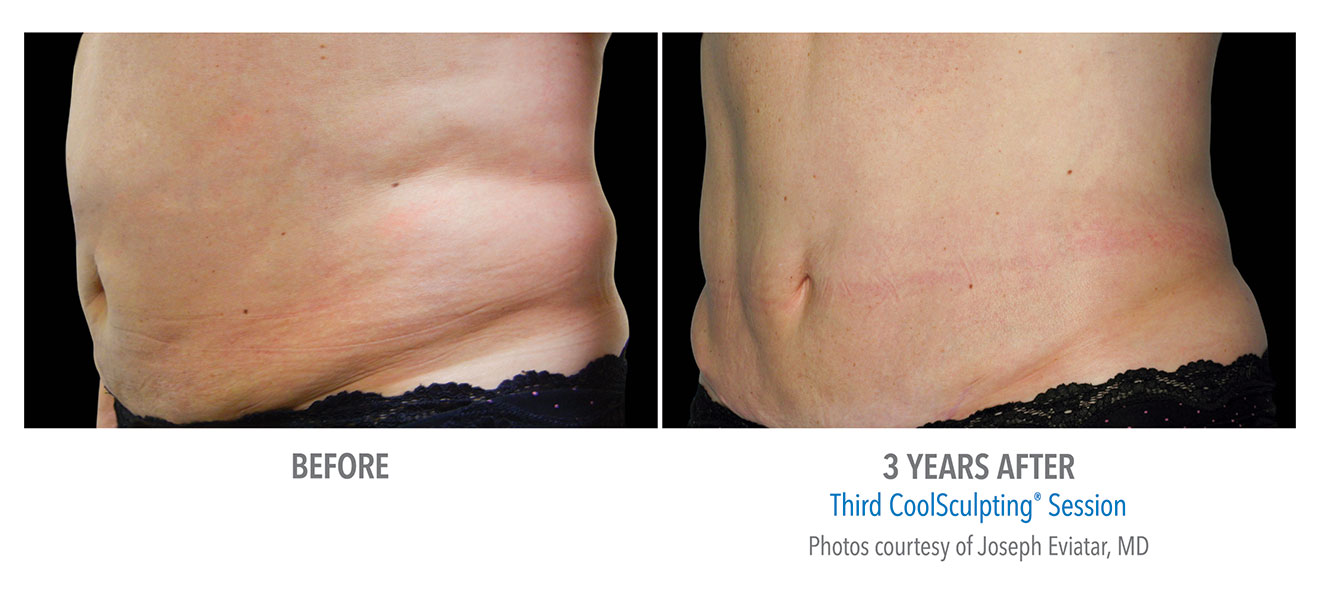 How does CoolSculpting® compare to liposuction?
In the past, contouring the body through fat reduction required a surgical procedure—liposuction. Today you have more options. Liposuction can provide more targeted and immediate results (discounting the recovery period), but it also results in longer downtime and asks patients to accept the risks that come with an operation. With CoolSculpting, you can focus on hard to tone areas with little downtime and discomfort. The benefits from CoolSculpting occur gradually, so the outcome is very natural-looking. No needles, sutures, or knives are used in CoolSculpting, unlike in liposuction, and the cost is often far lower with CoolSculpting. That said, your needs and goals are unique. CoolSculpting may be able to help you achieve your desired outcome without the need for surgery. However, there are some limitations to this approach, as is the case with any body contouring technique. We will discuss what is possible during your initial consultation.
The BEST Med spa I have been too!!!! This place has exceeded my expectations! The whole entire office crew was completely nice and wonderful from the moment I called! That is what I call GREAT customer service!! I love this place and I will continue to go!! Thank you so much ladies for everything!!!!!

Ashley Jones

July 16, 2018

12345
What areas can CoolSculpting® treat?
Between CoolSculpting and CoolMini, virtually any area where stubborn fatty tissue is commonly found can be addressed. Some of the most popular locations to contour include:
Under the chin (CoolMini)
Stomach/abdomen
Love handles/flanks
Back/bra area
Inner thighs
Outer thighs
Male chest
Upper arms/bat wings
What does CoolSculpting® feel like?
CoolSculpting uses suction to deliver targeted cold energy treatment to the desired area. You will feel some slight pressure as the procedure begins, as well as a strong sensation of cold for a short period, followed by numbness. Some patients report tingling in the affected area as well. Once the session has ended, we will massage the area, which may be a little sore or uncomfortable as the skin warms to the touch. We make every effort to enhance your experience at every stage.
Are there any CoolSculpting® side effects?
Some mild bruising, swelling, and discomfort is to be expected, and these effects should fade within a few days, often less. Most patients can return to their normal daily schedules immediately following treatment. The minimal downtime and recovery involved in CoolSculpting is another of its many benefits. The non-surgical procedure allows you to return to your daily activities quickly with little physical evidence of having completed a cosmetic treatment.
Is CoolSculpting® safe?
We take your safety very seriously at Lifestyle Solutions, and CoolSculpting is FDA approved for the purpose of reducing fatty tissue in a variety of areas. Having gone through a multitude of studies, CoolSculpting has been shown to be very effective at contouring the body with minimal side effects. CoolSculpting, while suitable for many people, is not an ideal approach to everyone. We will review your cosmetic concerns, discuss your goals, and review pertinent health considerations prior to determining if CoolSculpting should be a part of your treatment plan. Our practice, unlike many medical spas, is founded and led by an extensively trained physician, and your well-being is our highest priority.
When will I see CoolSculpting® results?
We recommend maintaining a healthy and active lifestyle to make the most of your CoolSculpting treatment, and you should be able to see optimal results after two to four months. You may be able to notice changes as early as four to six weeks, and the benefits should continue to improve for several months. You may need more than one CoolSculpting treatment to obtain the outcome you desire, and our skilled medical team will help you determine how many sessions will be needed based on your anatomic characteristics, expressed goals, and other factors.
How much does CoolSculpting® cost?
One of the many benefits of CoolSculpting is the procedure often costs less than liposuction. Furthermore, less downtime and recovery is associated with this non-surgical treatment, so you may also see savings with regard to taking time off from work or your regular schedule. According to the manufacturer, the national average price of CoolSculpting per treatment is between $2,000 and $4,000. This number does not necessarily reflect the cost at Lifestyle Solutions, and we can review the expected cost with you during your initial consultation. It is our practice to customize every program to best suit the needs and goals of the individual. We also work with reputable medical financing agencies, in the event a payment plan would better fit your budget and lifestyle. Feel free to talk to us about your interests and voice any questions. We're here to help.
What other fat reduction methods are available?
At Lifestyle Solutions, we offer a range of state-of-the-art weight loss and fat reduction methods to best suit you. In addition to CoolSculpting, we have physician-supervised weight loss plans, fat burning injections, and prescription weight loss medication. During your initial assessment, we will tailor a customized treatment plan to help you achieve the body you've always dreamed of using the healthiest and safest means possible.