Laser Hair Removal
Undesired or excess hair on the face and body can be bothersome, embarrassing, and uncomfortable. To help our patients achieve the smooth, hair-free skin they desire, our medical spa offers one of the most advanced and powerful hair removal technologies available: the Cynosure® Palomar Icon™ Aesthetic System. *This state-of-the-art hair reduction equipment can be utilized on a wide range of skin types with rapid results and greater comfort than ever before.
*Individual Results May Vary
What Makes the Palomar Icon™ System Special?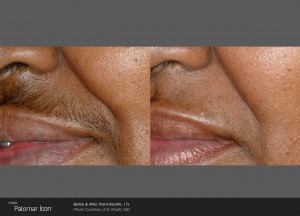 There is a broad array of laser hair reduction methods available. Part of what makes the Palomar Icon™ unique is the exceptional experience and superior results. Utilizing the innovative Skintel® Melanin Reader, the device can adjust the power level to suit your singular skin pigment. Not only can this provide greater protection and comfort during your treatment, but it can also maximize hair removal per session. Beauty shouldn't have to be painful, and the Icon™ knows it. Advanced Contact Cooling™ maintains the temperature at a refreshing 5 degrees Celsius.
How Does Laser Hair Removal Work?
Laser hair reduction treatments work by disrupting the growth of the hair within the follicle. The Palomar Icon™ is designed to destroy the cells associated with hair growth in a specific area, such as your underarms, face, chest, back, bikini line, or legs, without harming the surrounding tissue. This typically means less downtime and better, longer-lasting results. When you arrive for you initial consultation, we'll discuss your areas of concern and cosmetic goals to develop a customized treatment plan that best serves your needs.
Who Can Be Treated?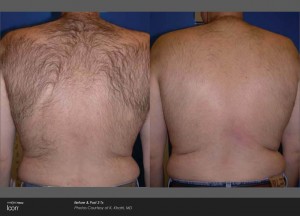 The Cynosure® Palomar Icon™ Aesthetic System can typically be used to treat a wide variety of skin types and tones, including light skin, dark skin, and virtually everything in between. However, a consultation is required to develop a personalized treatment plan. Any questions, concerns, and precautionary advice can also be addressed during this meeting. While individual experience may vary, the hair removal procedure is often quick with little to no downtime.
How Much Does Laser Hair Removal Cost?
We understand that costs are a consideration for most patients. Fortunately, laser hair removal can be one of the most affordable non-surgical aesthetic treatments available. Furthermore, the procedure is customized to best suit your individual needs and cosmetic goals. The price of laser hair removal will vary depending on the size and number of areas treated, as well as other factors like skin type, hair color, and additional characteristics. On average, laser hair removal can cost between $100-$500 per session. This is a national average and not necessarily representative of our fees. We regularly offer special discounts and medical financing options to help our patients achieve their goals at an affordable rate.
Is Laser Hair Removal Permanent?
Most patients are curious about how long laser hair removal will last. Although commonly called laser hair removal, laser hair reduction is the more appropriate term. What this treatment is designed to do is reduce the amount of hair growth in a treated region, and most patients can achieve up to 80% reduction once a certain number of sessions have been completed, typically six to eight. More comprehensive results can be obtained with additional treatment. Some patients find that they need occasional maintenance appointments, while others never need another treatment once the initial program is complete. Every body and skin type is unique, and we can help you determine what to expect at your first meeting.
At-Home Hair Removal Vs. Palomar Icon® System Hair Reduction
Body and facial hair can be removed a number of ways, so why bother with laser hair removal? The truth is laser hair removal with the Palomar Icon™ System offers lasting results, often with less hassle and discomfort than many other forms of removal, such as waxing, shaving, and epilation. Additionally, compared to the cost of at-home hair removal options, laser hair removal may be more affordable in the long term. Waxing, shaving, and lotions can also cause skin irritation, and they extend your daily regimen time. Ultimate, though, selecting the right hair removal option for you is a personal choice. Talk to us today to see if laser hair removal is right for you.
Does Laser Hair Removal Hurt?
One of the many benefits of the Palomar Icon™ System is that it offers a more comfortable approach to laser hair removal. This technology includes a cooling mechanism that keeps skin feeling fresh during treatment. Discomfort may be minimal or nonexistent for certain areas of the body, and for more sensitive regions like the face, underarms, stomach, and bikini line, we offer topical numbing cream to ensure you have the best experience possible. Do you have additional questions? We're here to help. Just talk to our team to learn more.