Laser Hair Removal
Undesired or excess hair on the face and body can be bothersome, embarrassing, and uncomfortable. To help our patients achieve the smooth, hair-free skin they desire, Lifestyle Solutions MedSpa offers one of the most advanced and powerful hair removal technologies available: the Cynosure® Palomar Icon™ Aesthetic System. *This state-of-the-art hair reduction equipment can be utilized on a wide range of skin types with rapid results and greater comfort than ever before.
*Individual Results May Vary
What Makes the Palomar Icon™ System Special?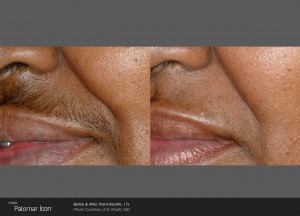 There is a broad array of laser hair reduction methods available. Part of what makes the Palomar Icon™ unique is the exceptional experience and superior results. Utilizing the innovative Skintel® Melanin Reader, the device can adjust the power level to suit your singular skin pigment. Not only can this provide greater protection and comfort during your treatment, but it can also maximize hair removal per session. Beauty shouldn't have to be painful, and the Icon™ knows it. Advanced Contact Cooling™ maintains the temperature at a refreshing 5 degrees Celsius.
How Does it Work?
Laser hair reduction treatments work by disrupting the growth of the hair within the follicle. The Palomar Icon™ is designed to destroy the cells associated with hair growth in a specific area, such as your underarms, face, chest, back, bikini line, or legs, without harming the surrounding tissue. This typically means less downtime and better, longer-lasting results. When you arrive for you initial consultation, we'll discuss your areas of concern and cosmetic goals to develop a customized treatment plan that best serves your needs.
Who Can Be Treated?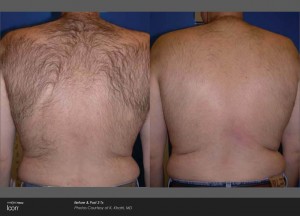 The Cynosure® Palomar Icon™ Aesthetic System can typically be used to treat a wide variety of skin types and tones, including light skin, dark skin, and virtually everything in between. However, a consultation is required to develop a personalized treatment plan. Any questions, concerns, and precautionary advice can also be addressed during this meeting. While individual experience may vary, the hair removal procedure is often quick with little to no downtime.