Skin Care Products
Achieving vibrant, healthy, and youthful-looking skin is a process that often begins at home. For this reason, Lifestyle Solutions MedSpa offers a selection of some of the best medical-grade skin care products available to help maintain, protect, and improve the condition of the skin. Our friendly and knowledgeable skin care specialists will develop a customized treatment plan that incorporates some of the highest-quality and most effective methods available to help achieve each individual's aesthetic goals. This comprehensive approach allows patients to mix and match professional skin treatments, such as facials, chemical peels, and/or massage, with our topical skin care products and aesthetic enhancement options.
For more information about our skin care products or to schedule a consultation with a specialist, please contact us today.
iS Clinical®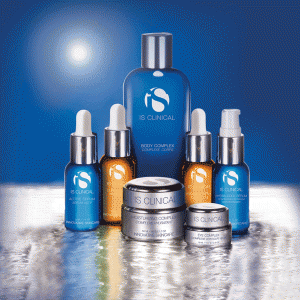 Comprised of vitamins, minerals, alpha/beta-hydroxy acids, and antioxidants, the innovative, anti-aging formulas in the iS Clinical® line of skin care products are supported by years of scientific research. The full line features a cleanser, serum, and hydrator for every skin type and concern, helping to replenish moisture, firm the skin, protect skin from the sun and repair sun damage, reduce fine lines, and brighten the complexion with results that can be fast-acting and long-lasting. Additionally, the developers behind iS Clinical® recognize most patients have busy lives, so they created a powerful skin care regimen that is also streamlined, typically requiring only one or two steps to complete yet offering a wealth of immediate and long-term benefits.
LATISSE® Eyelash Enhancer

Eyelashes not only frame the eyes for a lovely, feminine effect, they also protect these sensitive features from potentially irritating particles that could enter the eyes without them. When an individual has insufficient or inadequate eyelashes, the condition is called hypotrichosis. Fortunately, an innovative topical treatment can allow patients to grow longer, fuller, darker lashes in a matter of weeks. FDA-approved LATISSE® is designed to increase the number of lashes by stimulating the hair during the growth phase. The formula, which is a topical prescription applied once daily at home to the upper eyelids along the lash line, should gradually produce longer lashes as well as a greater number of lashes over time. Initial effects are often visible after about four weeks, with full results typically apparent after approximately 16 weeks. Once optimal results are achieved, the frequency of application can be reduced.
Any patient who is unsatisfied with the fullness, length, or inadequacy of her lashes may benefit from this treatment. Our friendly and knowledgeable skin care specialists can help you determine if LATISSE® eyelash enhancer is right for your goals.