Prescription Weight Loss Medications
Our experienced weight loss doctors may prescribe appetite suppressants to help you achieve your weight loss goals. These medications aid in reducing feelings of hunger while increasing satiety—the feeling of being full. Many patients find that during a weight loss program, feelings of hunger or starvation can make it difficult or impossible to maintain a calorie-controlled diet. Appetite suppressants can often eliminate these feelings, making it easier to follow the program and lose weight.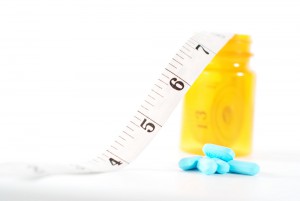 Weight loss medications are typically available as tablets or extended-release capsules. By increasing serotonin or catecholamine levels—two brain chemicals that control mood and appetite—appetite suppressants can often fool the body into believing that it is not hungry, or that it is full sooner. As a result, you eat less, helping you lose more weight. One commonly prescribed example is Phentermine, also called Adipex®.
Typically, appetite suppressants on their own are moderately effective, generally resulting in 5-22 pounds of weight loss in a year. Without behavioral changes, however, weight gain commonly reoccurs once you stop taking them. Our comprehensive approach to medical weight loss can help you develop lifestyle strategies to eat healthier, control your appetite, and improve your fitness level. In combination with appetite suppressants, these behavior modifications can help your take control of your health and your life.