Laser Skin Resurfacing
What is Laser Skin Resurfacing?
Smooth, supple, glowing skin is something we all strive for, but sometimes life—and genetics—can get in the way. If you feel that uneven skin texture, hyperpigmentation, common signs of aging, or a combination of these factors may be muddling your complexion, our med spa may be able to help. 
At Lifestyle Solutions MedSpa, we believe health and beauty are two branches extending from the same tree. Our team is well-versed in laser skin resurfacing, a non-surgical treatment method that uses concentrated beams of light energy to address a number of skin concerns. Targeting the dermis, the deeper layer of the skin, the laser system is designed to stimulate collagen production and rejuvenate the skin. 
Laser skin resurfacing is used by some of the most professional, advanced med spas and cosmetic surgeons around the world. We proudly use the Cynosure® Palomar Icon™ Aesthetic System, an innovative device that can address a wide range of skin conditions quickly, effectively, and with beautiful results. 
What Are the Benefits of Laser Skin Resurfacing?
Gentle, non-ablative fractional laser skin resurfacing from our practice can improve the appearance of facial skin with minimal downtime and optimal results. The Palomar Icon™ is designed to treat a comprehensive range of skin conditions, including:
Fine lines and wrinkles
Acne and surgical scars
Stretch marks
Melasma
Hyperpigmentation
Uneven skin tone and texture
Additionally, this state-of-the-art technology offers increased surface coverage compared with similar devices, offering full-face treatment in one pass. As a result, you can enjoy a more rapid, comfortable, and effective rejuvenation experience in our care.
Jacquelyn is the absolute best! She is so informative and makes your entire experience so relaxing and enjoyable. The office staff is always super polite and helpful as well. The facility is impeccable and the overall atmosphere is perfect. I couldn't be happier with this place!

micaela sutphin

March 14, 2018

12345
What Should I Expect from Laser Skin Resurfacing?
We want to help you achieve your cosmetic goals in the safest and most pleasant environment possible. We selected the Cynosure® Icon™ due to its advanced capabilities and the fact that it provides our experienced medical team precision-control over your procedure. 
Laser skin resurfacing is a minimally-invasive procedure that can be performed right here at our practice. One of our skilled medical spa team members gently uses a "stamping" method with the Icon™ device on the treatment area. The handpiece has a built-in cooling mechanism that is designed to minimize any discomfort, although we may also use a topical numbing cream depending on the extent of treatment. The procedure is often completed in an hour and does not typically require any periods of downtime.
During your initial consultation, we will customize a treatment plan that is tailored to your unique anatomical needs and preferred outcomes. The number of laser skin resurfacing sessions required will vary depending on the condition of your skin and what you are hoping to achieve. If desired, a combination approach including weight loss treatment and aesthetic enhancement techniques can be developed to help you accomplish your ultimate goals.  
*Individual Results May Vary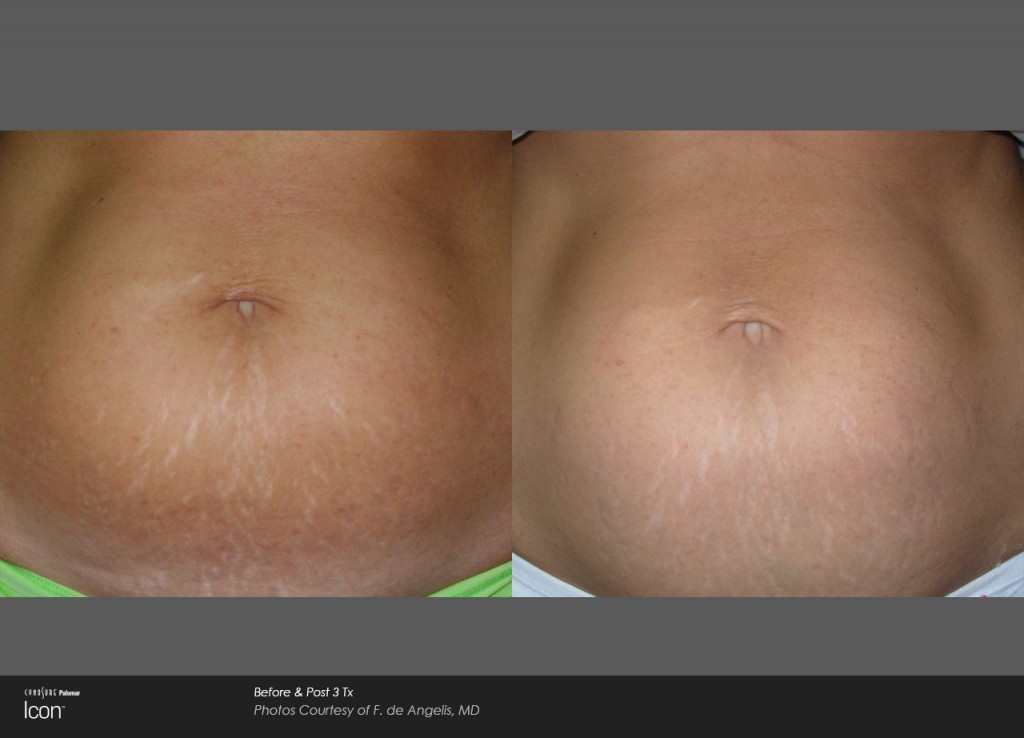 What Does the Laser Skin Resurfacing Recovery Process Involve?
We strive to make your experience as comfortable as possible, and most of our patients report little to no discomfort during treatment. Side effects should be minimal, and may include swelling, redness (similar to a sunburn), and tenderness in the treated area. Patients can typically return to most of their normal daily activities within a day, and these symptoms should subside after a few days. We often recommend that patients apply moisturizing creams and lotions, wear sunscreen, avoid picking at the skin, and limit sun exposure to help facilitate healing. Depending on how well you take care of your skin and the frequency of your treatment sessions, laser skin resurfacing results may last up to three to five years.
How Much Does Laser Skin Resurfacing Cost?
Since every patient is unique, we tailor each procedure to your own needs and goals. As a result, the price for laser skin resurfacing will vary among patients. We offer a complimentary consultation for each patient, which is the best way for us to conduct a more accurate assessment and provide a precise quote. We do accept a variety of payment methods, and qualifying patients can arrange payment plans through CareCredit®. If you have any questions or concerns about the cost and financing of laser skin resurfacing, please do not hesitate to call our office.
Don't let fine lines, age spots, or facial scars stop you from feeling your very best; contact us today for more information about laser skin resurfacing, or to schedule a consultation.