SmoothShapes Cellulite Removal
Although cellulite has commonly been blamed on obesity, the dimples that may appear on your skin in fatty areas is actually caused by connective tissues that have become rigid and enlarged fat cells. A new cellulite removal treatment addresses these underlying concerns and offers noticeable, long-lasting results.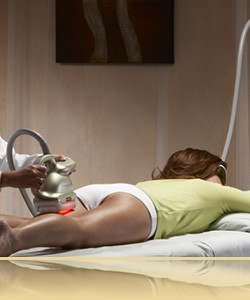 SmoothShapes XV is a cellulite removal system that combines massage with light and laser energy to improve the appearance of puckered or dimpled skin. During this laser skin rejuvenation treatment, a handheld device is rolled over the skin, creating a massaging sensation. At the same time, light and laser energy from the device work to liquefy fat cells and increase cell membrane permeability. The massaging of the rollers help work the liquefied fat away from the skin so that it can be removed from the body through the lymphatic system.
After a SmoothShapes XV treatment, you should notice that your skin appears smoother and tighter, although a series of eight treatments is recommended for best results. During your cellulite removal treatment, you'll feel gentle warming and massaging sensations as the handheld device is rolled across your skin. Some patients compare the feeling to a deep tissue massage and many say the treatments are relaxing.
Immediately after your cellulite removal treatment, your skin may be red or warm to the touch. These effects should disappear within two hours after treatment. You should be able to resume normal activities with no downtime or recovery period necessary.
Contact us today for information about our latest SmoothShapes Special Offer.