Kitchen Madness! Organizing your Kitchen for Weight Loss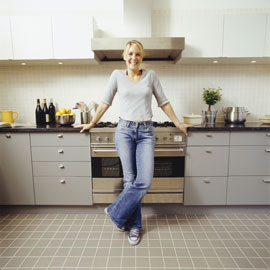 You go to your doctor for weight loss support and advice, but what happens when you get home? You might feel inspired to eat healthier, workout and follow all of your weight loss doctor's advice, but then you walk into your kitchen and everything is a mess. Most people can relate to this feeling. Even if your kitchen is spotless (and if that's the case, bravo) chances are you can look deep into your pantry and find cans of vegetables that expired years ago, boxes of half-eaten cereal that are stale and a pile of sweets calling your name.
Fat burning injections and weight loss support are only going to take you so far in your weight loss endeavors. Once you lose the weight it is up to you to keep it off by engaging in healthy habits. Organizing your kitchen around your weight loss goals can prevent you from falling off the deep end into a pool of poor eating habits.
Taming Kitchen Clutter
Having an organized kitchen can prevent a lot of poor eating habits. When you know everything in your kitchen is still OK to eat, as in not yet expired, then you know exactly what choices you have and it becomes easier to plan ahead. That is why the first step to organizing your kitchen is to take out a trash bag and throw away all of the old food. This is painful for a lot of people to do, but remember that when food is expired or if it is especially unhealthy then it is better off in the trash than lingering in your freezer.
If you have a lot of foods that are recently purchased and are no longer part of your weight loss diet, pack them up in plastic bags and deliver them to a local food pantry or homeless shelter. By donating these foods to those who are hungry you might feel better about clearing out your kitchen.
Once you have cleared away everything that had to go, you can start assigning everything a home. Counters should be used as preparation areas, not as spice and snack storage. The less often you see tempting snacks on the counter the less often you will be tempted to grab a bite as you pass by. Clear out the junk drawer and use the space to hold spices. Use your cabinets efficiently by keeping everything you use to pack lunches in one spot, and then the common ingredients you turn to for dinner in another spot. By organizing your kitchen by meal like this you will always know where to look when you are debating what to make for dinner.
Think of ways to streamline the process of making dinner as you organize your kitchen. You might be tired when you get home after a long day at work, and heading out for a bite to eat instead of cooking will likely be tempting. Set yourself up for weight loss success by creating a kitchen environment that is organized, welcoming and begging for you to use it.