Which Fat Burning Injectable is Right For Me?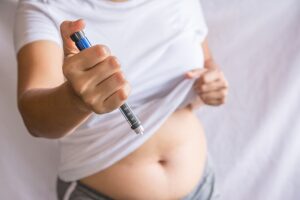 At Lifestyle Solutions MedSpa, we personalize each physician supervised weight loss program to meet our patients' unique needs. Every day, our bariatric specialists help patients improve their quality of life with metabolic testing, exercise and nutritional counseling, and other helpful strategies, such as fat burning injectable treatments. While these injections may not be ideal for everyone, they have proven helpful for numerous patients who need assistance achieving safe, long-term weight loss. Below, you'll find an overview of the weight loss injectables featured at our practice.
Lipotropic injections. Lipotropic injections are composed of various nutrients, vitamins, and amino acids that have been shown to aid in weight loss.* They are designed to rid the body of fat cells, boost energy levels, and improve metabolic function. Our physicians have developed a scientifically-backed formula for lipotropic injections that contains choline, methionine, inositol, and b12.
Vitamin b12 injections. Vitamin b12 is an essential nutrient that plays a crucial role in various bodily functions, including DNA synthesis, blood health maintenance, and metabolism. Many patients benefit from b12 injections, which have been shown to increase energy levels and motivation. Additionally, b12 may be able to ease symptoms of depression in some individuals, which may help them through their weight loss journey.*
Semaglutide injections. Also marketed under the brand names Ozempic® (which can treat type 2 diabetes) and Wegovy™ (prescribed to combat obesity), semaglutide injections can dramatically aid in weight loss for many patients. These injections were designed to stimulate insulin release from the pancreas and, by extension, emulate the sensation of fullness and control appetite. Semaglutide has helped certain patients lose up to 15% of their body weight.
Ultimately, the best way to choose from our weight loss solutions is to meet with our team. After an initial evaluation, we can build a customized plan that suits your metabolism, lifestyle, and long-term goals. Whether or not your weight loss journey should include fat burning injections can be determined at this first-time meeting. Schedule your consultation at Lifestyle Solutions MedSpa today!
Medical References*