Ocala Med Spa and Bariatric Practice Voted "Best of the 352"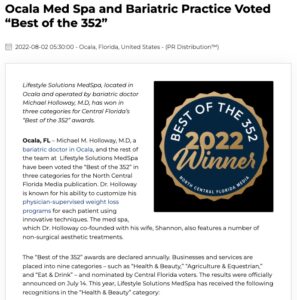 Lifestyle Solutions MedSpa, located in Ocala and operated by bariatric doctor Michael Holloway, M.D, has won in three categories for Central Florida's "Best of the 352" awards.
Ocala, FL – Michael M. Holloway, M.D, a bariatric doctor in Ocala, and the rest of the team at Lifestyle Solutions MedSpa have been voted the "Best of the 352" in three categories for the North Central Florida Media publication. Dr. Holloway is known for his ability to customize his physician-supervised weight loss programs for each patient using innovative techniques. The med spa, which Dr. Holloway co-founded with his wife, Shannon, also features a number of non-surgical aesthetic treatments.
The "Best of the 352" awards are declared annually. Businesses and services are placed into nine categories – such as "Health & Beauty," "Agriculture & Equestrian," and "Eat & Drink" – and nominated by Central Florida voters. The results were officially announced on July 14. This year, Lifestyle Solutions MedSpa has received the following recognitions in the "Health & Beauty" category:
Best Weight Loss Center: This award is often reserved for centers that are said to offer the most effective weight loss strategies. Dr. Holloway, whose weight loss solutions combine personalized guidance in diet, weight loss, and medication management, is proud to have been honored with this recognition. "We believe that compassion is the foundation of any successful weight management plan," says Dr. Holloway. "It means everything to my team to know that our gentle, encouraging weight loss strategies have improved the lives of so many patients."
Best Anti-Aging Clinic: According to the website for "Best of the 352," clinics nominated for this award focus on the detection, treatment, and prevention of age-related conditions. For example, Dr. Holloway often recommends patients who want to reduce the effects of aging undergo therapies such as HydraFacialMD®. This treatment, as well as many others offered at Lifestyle Solutions MedSpa, uses specialized serums to reduce signs of wrinkles, age spots, and more.
Best Med-Spa: The website for "Best of the 352" describes the "best med-spa" as one with options for "result-oriented and corrective" products and treatments. Says Dr. Holloway, the skin care specialists and aestheticians at Lifestyle Solutions MedSpa are experienced in a wide variety of non-surgical procedures, not limited to laser therapies and cosmetic injectables. "We strive to help patients look and feel as healthy as possible throughout their weight loss journey," he says. "All of our med-spa services and products were selected with that goal in mind."
Winners in the "Health & Beauty" category represent a devotion to patient satisfaction and a record of top results in their respective areas of care. Dr. Holloway states that he is humbled to have received recognition for his team's work in bariatric medicine, anti-aging solutions, and medical spa treatments, and wishes to thank those who nominated and voted for Lifestyle Solutions MedSpa.
About Lifestyle Solutions MedSpa
Dr. Michael M. Holloway uses a multidisciplinary approach to weight loss, employing the help of lifestyle coaches, dieticians, and other weight loss professionals to provide goal-oriented guidance. Enforcing his belief that there is no "one-size-fits-all" solution for weight loss, he builds each weight management program to suit the medical needs and aesthetic goals of the patient. These programs include nutritional counseling, metabolic testing, and exercise regimens. The practice also offers weight loss solutions such as fat injections and medications. Passionate about helping patients conquer obesity and reform their lives, Dr. Holloway offers weight management programs, med spa treatments, and more. He is available for interview upon request.
For more information about Lifestyle Solutions Medspa, please visit lsmedspa.com, facebook.com/lsmedspa, and @lsmedspa on Instagram.
Contact:
Lifestyle Solutions MedSpa
2139 NE 2nd Street
#B-2
Ocala, Florida 34470
(352) 368-2148
Rosemont Media
(800) 491-8623
www.rosemontmedia.com