HydraFacial® vs. Microdermabrasion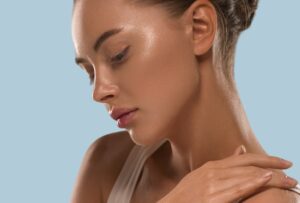 Many women and men strive to put their best face forward by adopting a skin care routine and receiving anti-aging skin care treatments from medical spas. If you have ever considered non-surgical skin rejuvenation, you have probably heard of the two popular skin resurfacing techniques – HydraFacial® and microdermabrasion. Both are designed to improve a variety of concerns by removing dead skin cells and impurities from the skin; however, it is important to know that they clear the skin using different methods. Factors such as how much downtime is needed and what specific skin concerns you are targeting can help determine the best option for your skin care needs and aesthetic goals.
Microdermabrasion uses vacuum technology with an abrasive tip to resurface the skin for a more firm and radiant complexion. By removing layers of dead skin cells and unclogging pores, microdermabrasion can be an optimal solution for improving dark spots, dull skin, hyperpigmentation, and mild acne. Patients with wrinkles, fine lines, scars, and/or moderate to severe acne may be better suited for HydraFacial® treatment. Although microdermabrasion's dry exfoliation method is effective, it may feel rough on the skin and cause some pinkness or redness after the session. That's why we often recommend scheduling a microdermabrasion facial several days or weeks before a special occasion to give ample time for the skin to heal and reveal its healthy-looking results.
On the other hand, HydraFacial® treatment can usually be given the day before or even the day of a big event. This is because HydraFacial® uses vortex technology that causes no abrasion to the skin's surface, meaning treatment requires little to no downtime and is less likely to cause redness or inflammation. How the vortex technology works is by using water and suction to get rid of dead skin cells, dirt, and oil from the skin. In contrast to microdermabrasion's "sandblasting" treatment, HydraFacial® technology is like a mini pressure washer with suction that helps cleanse the skin, extract clogged pores, and infuse hyaluronic acid and growth serums into the skin, which can produce a more youthful, radiant glow that lasts for several weeks following treatment.
HydraFacial® can also be more effective than microdermabrasion for addressing skin problems such as wrinkles, fine lines, scars, and/or moderate to severe acne. Treatment is designed to boost collagen and elastin production to help improve the texture and suppleness of the skin. Generally speaking, patients with sensitive skin may find HydraFacial® to be a more hydrating and comfortable solution. For optimal benefit, we recommend that patients have follow-up treatments once every three to four weeks to maintain their beautiful, natural-looking results.
Both HydraFacial® and microdermabrasion can be great options for achieving smoother, glowy skin. If you are still unsure about which facial will work best for your skin, we encourage you to schedule a consultation with one of our skin care specialists. Our team will be happy to assist you in reaching your aesthetic enhancement goals.