Ocala Bariatric Physician Highlights Benefits of Medically Supervised Weight Loss Programs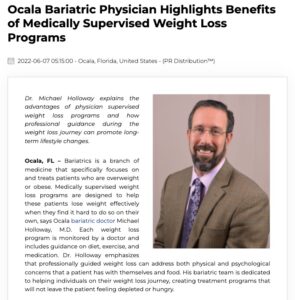 Dr. Michael Holloway explains the advantages of physician supervised weight loss programs and how professional guidance during the weight loss journey can promote long-term lifestyle changes.
Ocala, FL – Bariatrics is a branch of medicine that specifically focuses on and treats patients who are overweight or obese. Medically supervised weight loss programs are designed to help these patients lose weight effectively when they find it hard to do so on their own, says Ocala bariatric doctor Michael Holloway, M.D. Each weight loss program is monitored by a doctor and includes guidance on diet, exercise, and medication. Dr. Holloway emphasizes that professionally guided weight loss can address both physical and psychological concerns that a patient has with themselves and food. His bariatric team is dedicated to helping individuals on their weight loss journey, creating treatment programs that will not leave the patient feeling depleted or hungry.
Dr. Holloway explains that his role as a medical weight loss doctor is to provide a comprehensive approach to losing weight. Fitness programs and nutritional counseling are customized to complement the patient's unique lifestyle, goals, and preferences. One of the most important benefits of a medically supervised weight loss program, says Dr. Holloway, is the personal attention and close supervision provided by the bariatric team. Treatment is specifically designed to help the patient set realistic weight loss goals that can lead to a healthier mindset for long-term sustainable changes. Dr. Holloway explains that not everybody has the time or nutritional knowledge necessary to produce an effective weight loss plan, so it can be very beneficial to have the expertise of a bariatric doctor when creating a personalized diet and exercise program.
Losing weight can be difficult for many individuals, which is why Dr. Holloway says that he is dedicated to making patients' weight loss journeys as enjoyable and stress-free as possible. He wants to guide patients to the point where it is easy to make healthy choices so that they can enjoy a life of health, balance, and happiness.
About Lifestyle Solutions MedSpa
Located in Ocala, Florida, Lifestyle Solutions MedSpa was founded by Dr. Michael Holloway and his wife Shannon Holloway. Their weight loss and aesthetic enhancement practice provides a variety of solutions to help patients improve their health, wellbeing, and overall appearance. Many patients come to Lifestyle Solutions MedSpa for services like physician guided weight loss programs, BOTOX® Cosmetic, laser hair removal, laser skin resurfacing, photofacials/IPL, and more. The team consists of esteemed weight loss professionals, lifestyle coaches, dieticians, and aestheticians ready to educate, motivate, and encourage patients to achieve their weight loss and aesthetic goals. Dr. Holloway is available for interview upon request.
For more information about Lifestyle Solutions Medspa, please visit lsmedspa.com and facebook.com/lsmedspa.
Contact:
Lifestyle Solutions MedSpa
2139 NE 2nd Street
#B-2
Ocala, Florida 34470
(352) 368-2148
Rosemont Media
(800) 491-8623
www.rosemontmedia.com